Wizard Golf Course Statistics
The Wizard Golf Course
Address:
4601 Leeshire Blvd.
Myrtle Beach , SC 29579
Phone: 843-236-9393
Fax: 843-236-1923
The Wizard Golf Club is a public resort with 18 holes.
The Wizard has bent grass on both the fairways and greens, and this is unusual in the area due to how much water is required. In the summer, particularly, the grass has to be watered frequently. That reduces roll, and that can make the putting surfaces challenging in a way. Fortunately, the greens are fairly flat and not expansive, so you can usually avoid three-putts even during summer. Greenside bunkers aren't common, but when they are present, they're quite deep. Playing away from them is key, and making a mistake in that direction can be disastrous.
Course Background
The Wizard is a Par 71 course that was opened in 1996. The course was designed by architect Dan Maples. The head pro is Steve Frishmuth and the General Manager is Tim Sautter.
TEES
Yardage
Rating
Slope
GRASSES USED
Championship
6721
71.7
129
Green:
Penn G2
Regular
6138
69.1
121
Fairway:
419 Bermuda
Seniors
5547
66.3
108
Tees:
419 Bermuda
Ladies
4972
71.2
121
Rough;
419 Bermuda
Scorecard DATA
Course Details
The course offers electric golf carts, a driving range, a practice putting green, a pro shop, snack bar, professional instruction and rental clubs.
The Wizard Golf Club serves beer and wine. There are no caddies and no bag storage available.
Metal spikes are allowed and coolers are allowed. Walking is not allowed. The dress code is regular golf attire.
Booking Tee Times
It is highly recommended to book a tee time in advance. You may call the club at 843-236-9393 or book online.
You may call between the hourse of 7:00am – 6:00pm. And a security deposit is required in the Spring and Fall.
Course Notes
The course record is 62 held by Mark Silvers. Events hosted at The Wizard are the Capt. Daves Match Play Championship and World Amateur.
The layout is a Scottish links style course with well-conditioned G2 Bentgrass Greens. The course borders 100 Lake along with the Man O War course.
The Wizard Golf course was developed by Sandhills Links.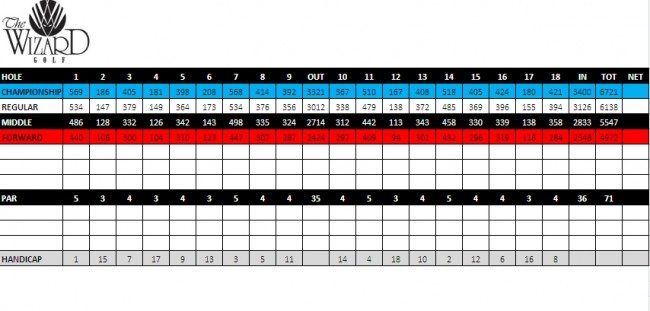 The Wizard Golf Course Score Card
—
FRONT NINE —
HOLE
1
2
3
4
5
6
7
8
9
OUT
CHAMPIONSHIP TEES
569
186
405
181
398
208
568
414
392
3321
REGULAR TEES
534
147
379
149
364
173
534
376
356
3012
SENIOR TEES
486
128
332
126
342
143
498
335
324
2714
LADIES TEES
440
106
300
104
310
123
447
307
287
2424
Par
5
3
4
3
4
3
5
4
4
35
Handicap
1
15
7
17
9
13
3
5
11
—
—
BACK NINE —
HOLE
10
11
12
13
14
15
16
17
18
IN
OUT
CHAMPIONSHIP TEES
367
510
167
408
518
405
424
180
421
3400
6721
REGULAR TEES
338
479
138
372
485
369
396
155
394
3126
6138
SENIOR TEES
312
442
113
343
458
330
339
138
358
2833
5547
LADIES TEES
297
409
94
301
432
296
319
116
284
2548
4972
Par
4
5
3
4
5
4
4
3
4
36
71
Handicap
14
4
18
10
2
12
6
16
8
—
—